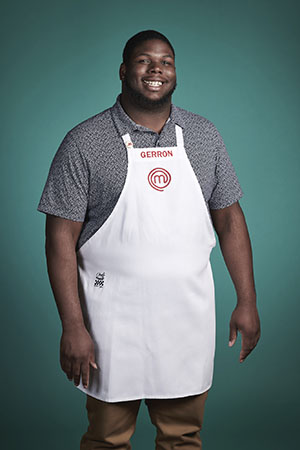 If you watch MasterChef on Fox (a show where home chefs compete for $250,000, their own cookbook and other honors), you might want to tune in to season nine, which premiered May 30, to see Gerron Hurt compete — a louisville native who now splits his time between Louisville and Nashville, Tennessee. Hurt went to Fern Creek High School before Western Kentucky University, and now he is a Nashville school teacher, whose life changed on a whim when he decided to go to the Master Chef auditions kind of last minute.
"I was watching the news in Nashville one day, and I saw that they would be doing auditions at a local hotel," said Hurt. "I wasn't going to go, but my fiance convinced me I needed to. She said it would be a great opportunity and that I really needed to go. So, I dropped everything and went to the auditions."
And it turns out his fiance was right. Hurt estimated that there were thousands of people at the Nashville auditions, although he found himself grouped with 25 others and taken to a room where he had about two minutes to lay out and plate his home prepared food before the judges came to taste it and ask about his inspiration and future plans for cooking. He was then notified that he made it through to the next room, where he spoke with the producers about the television aspect of the show and had the opportunity to tell a little more of his story, which revolves around his family.
"I learned to cook from my mom, and she died from cancer in 2013," he explained. "After that, I started doing a lot of cooking for my 7 brothers and sisters. It became my responsibility. Anything my family loves, I try to do my best to cook, and a lot of the dishes I cooked for the show represent me and my family on a plate."
He said he then had to just go home and hope to hear from the producers. When he got the call, he made the trek to Los Angeles, where the battle for a white apron began. Each competitor walks through the magic doors when they open and prepares a meal with the hopes to receive one of the eight aprons the judges — award-winning chef Gordon Ramsay, acclaimed chef Aarón Sánchez and renowned restaurateur Joe Bastianich — each have to give a contestant, allowing them to advance to the next round as the top 24 chefs selected from all the participants across the country.
"I made Nashville hot chicken, and the other guy made fried chicken," Hurt revealed. "I was the first one to receive a white apron, and it came from Joe Bastianich. As you cook and watch those shows, you dream about Gordon Ramsey or the other chefs you watch on these shows tasting your food, and having that dream become a reality for me was just unbelievable."
The episode that aired last night featured the chefs taking a class from Chef Ramsey about how to break down and cook a Dungeness crab. (Here's a video demo by Chef Ramsey on how to do Crab Benedict. MasterChef also posted this adorable gif of Hurt to twitter shortly after the episode aired.) As the episode opened, Hurt told the cameras that he tells his students every day that they can achieve anything they put their mind to, and that he was really feeling that statement in the MasterChef kitchen that night.
Food & Dining Magazine had the chance to also speak with season seven finalist Brandi Mudd – also a teacher and Kentucky native – who had the following advice for Hurt.
"It's really stressful to see yourself on tv and know people across the world will be judging you. It's a whole new world being put in the spotlight, and it can be difficult staying true to yourself. But it's important to remember you have all these little people at home who are watching every move you make. It's not very often kids see someone like them make it big, so you have this responsibility to yourself, to these kids at home, — in your class, in your state and across the world. It's important to do your best and remember to present yourself in a way that you are someone to look up to."
Hurt seems to have a positive mindset when dealing with the stress of these challenges and said that he learned a lot from the challenges he was able to participate in.
"I was definitely very nervous," he said. "This was a nervous type of thing. It's not every day you get to cook in front of Gordon Ramsey. Him being one of the top chefs in the world, you want to do a good job. You might get Ramsey'ed. He might come and cut you out at any minute. But also, I had to have the mindset that I'm here for a reason; whatever the outcome is, it's what it's going to be. So, I'm going to do my best regardless.
"I really learned so much. Cooking for my brothers and sisters all the time and cooking for family, it's just a passion. So, you're demonstrating that passion for family. You don't think about what you're strategically putting on a plate, you're just slopping it on a plate. The show really taught me to think about it and think about the flavor profiles of what's going on the plate — how to pair foods and refining how much you put on a plate before it's enough, because people eat with their eyes, so you want to make it attractive. That's one way I've grown in the kitchen, and one thing I think about all the time that Ramsey told me. He said to 'never work with a mistake. if you see something that isn't right, don't continue working with it; fix it immediately. If you continue working with it, it will damage what you are doing in the long run.'"
Hurt isn't planning a future with a restaurant or professional cooking. He said he wants to continue teaching, but he is passionate about providing opportunities to children who don't have them.
"College is not for everyone, so I'd like to provide a culinary program for the students at my high school, so they can have an additional opportunity. The program would include in-school classes and an after school program, which would extend the benefit into serving the community as well."